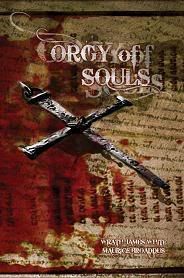 ORGY OF SOULS by Wrath James White and Maurice Broaddus (2008 Apex Publications / 144 pp. / trade paperback)

Arguably one of the more unusual author collaborations to come around in years, ORGY OF SOULS takes a look at faith, fame, sacrifice, redemption, and should easily please fans of both authors.

After contracting AIDS on a mission trip, Catholic priest Father Samuel begins to question his faith, yet continues to encourage others suffering from the same disease as well as faithfully performing his priestly duties. Samuel's brother, Samson, is a top-notch fashion model and considered to be one of the best looking men in the world. Not being able to deal with his righteous brother's situation, he makes a deal to give twenty souls in exchange for Samuel's life---twenty souls he has to take by seducing and violently butchering each victim. When Samson tells Samuel what he's doing, it causes the priest to further contemplate both their existences. Of course, all hell (literally) breaks loose when Samson learns he wasn't bargaining with an angel . . . at least not with a heavenly angel.

Packed with genuine theological questions most people--religious or not--wrestle with, White and Broaddus have crafted a tight, extreme horror story that's scary, intense, heartbreaking, and by allowing readers to draw their own conclusions on the spiritual issue of faith, this unlikely writing-duo have even managed to minister to their audience (not to shabby for this first pairing between a Christian and an Athiest!).

ORGY OF SOULS is a gore-soaked, thought-provoking, unique novella that is must reading for fans of religious-themed horror. There's also an excellent foreword and afterword by the authors.