(The following review will appear in THE HORROR FICTION REVIEW #19, coming in late April, 2008).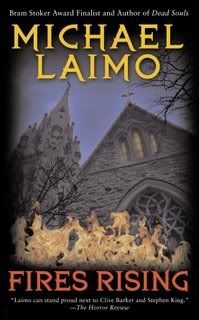 FIRES RISING by Michael Laimo (2008 Leisure Books / 262 pp. / mmp)

Let's see here: hordes of murderously-possessed construction workers, an unlikely heroic combo of a Catholic priest and small gang of homeless men, horrifyingly disgusting monsters, mass urban chaos, sacred relics gone awry, more church burnings than the 1990's Norwegian death metal scene, gruesome deaths . . .

. . . yep, it's end-of-the-world time once again in the heart of New York City.

Father Anthony Pilazzo's church is being torn down, causing him to hear confessions at another parish. Meanwhile, a group of homeless men (and two young boys), using Pilazzo's abandoned church to squat, listen daily to the construction workers' slow take down of the building, until young Jyro discovers a hideous sight within the structure, signaling the end of days are near.

Despite a semi-common set-up, Laimo really goes balistic in FIRES RISING, blending a more intense "DaVinci Code-ish" back-story with balls-to-the-wall horror and suspense. This is one of those novels that will bring a smile to long-time fans of the genre who just want to kick back and read a straight-ahead, no BS horror story that's full of excitement, action, and plenty of creatures and grue. A partial fantasy-element toward the ending (involving statues) actually works great here.

FIRES RISING is very genre-spirited stuff, and it was great to see a Catholic priest painted in such a positive light for a change (and this coming from a Protestant reviewer!). Grab a bucket of popcorn and a comfy chair, and plan to crack this super-fast read open at the witching hour: you'll rip through it in a sitting or two, and you'll leave it more satisfied than 95% of the horror films you've seen over the past 10 years.

Authors with Laimo's spirit will keep horror alive and kicking for years to come . . .